XVI CNoL Congress

22 February 2023

 

The Center for Lactation Science invites you to a training and scientific conference entitled.

Breastfeeding – protected by law

which will be held on June 2-3, 2023 in Warsaw

 

Form

The convention will be held in a hybrid form:

Stationary at the Falenty Business and Leisure Hotel, 4B Hrabska Avenue, 05-090 Raszyn-Falenty and online.

 

 

Attention!
Since last year, there is a new panel for enrollment (those who signed up for the CNoL event in 2022 and 2023 have been given a new ID – use it when signing up for the convention.
Those who did not participate in the Center for Lactation Science events in 2022 and 2023 should mark "I do not have an ID" – a new one will be given – you should keep it, as it will be used for future years to sign up for CNoL events.

 

 

SPECIAL GUEST

Catherine Watson Genna BS, IBCLC, RLC

Catherine Watson Genna has been an IBCLC consultant since 1992 and has a private medical practice in New York City. Of particular importance to Catherine is helping moms and babies with any medical challenges while breastfeeding. Her speeches, lectures and publications are valued among the medical community – reaching professionals in many corners of the world. Catherine contributes on topics related to supporting children with anatomical, genetic or neurological problems. Both publications and presentations by Catherine are enriched with photos of clinical cases. Her research, conducted in collaboration with the departments of biomedical engineering at Columbia University and Tel Aviv University, addresses aspects of sucking and swallowing by newborns and the biomechanics of the nipple.

Catherine is the author of Selecting and Using Breatsfeeding Tools: Improving Care and Outcomes (Praeclarus Press, 2009) Selecting and Using Breastfeeding Equipment: Improving Care and Outcomes and Supporting Sucking Skills in Breastfeeding Infants (Jones and Bartlett Learning 2008, 2013, 2017) Supporting Sucking Skills in Breastfed Infants and research articles and chapters in the Core Curriculum for Lactation Consultant Practice and Breastfeeding and Human Lactation, Core Curriculum for Lactation Consultant Practice and Breastfeeding and Human Lactation. Catherine served for 7 years as an associate editor for the scientific journal Clinical Lactation, the official publication of the USLCA (American Society of Lactation Consultants). Catherine acts as a leader of the La Leche League, continuing to support new members of the organization in the Queens branch. She believes that clinical expertise should go hand in hand with empathy and understanding toward breastfeeding families. Catherine's commitment to teaching stems from a desire to find solutions to her patients' problems. It was founded on a strong desire to understand the science behind breastfeeding and lactation. Catherine is also the mother of two children – breastfed, of course!

We encourage you to learn more about Catherine Watson Genny and her impressive achievements at: http://www.cwgenna.com/

XV Congress Program

21 April 2022

We are happy to announce that the official program of the 15th Jubilee Conference Breastfeeding – into the future is already available on our website!
The conference will take place in Warsaw, June 10-11, 2022.

We cordially invite You to get acquainted with the colorful list of lectures and workshops!
Events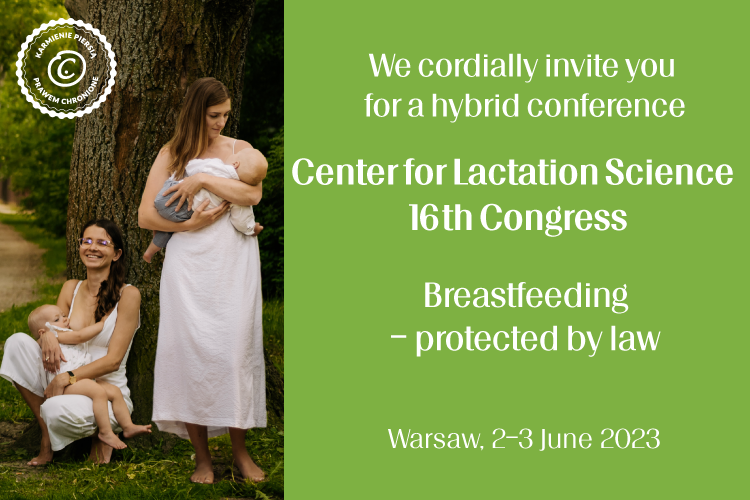 Social Media